To date even though I was expecting to play only a number of decent games, I was surprise to have play modern games such as metal gear phantom pain and such (Look for online images to see the how great ingame graphics). Everything would have perfect if not for the cheap wifi model acer chose to use for its wifi connecting device. The Atheros Qualcomm (QCA61x4) model is so buggy that it oftentimes cause my windows to go BSOD or blue screen of death. I have research on the subject online and it turns out the device is also present on other brand such as lenovo, so I would suggest that you avoid at all cost if you ever found the laptop you desire has this wifi device integrated.

Battery life is not on par with netbooks which usually claims to run for 8 hours beyond. But then again, I'm comparing apples and oranges here as Acer V15 is full fledged laptop which of coarse eats more battery. Some of the things I like is its lightweight, cool monitor back cover and its minimal bloatwares.

Overall, the things that annoy me here are generally the buggy wifi and windows 10 which also has its history of giving headaches. In fact, I recently made a full harddisk reformat and was able to install windows thanks to the usb recovery that I quickly made since I newly got the laptop..

dayworth..
I have been using this laptop for more than half a year already so far it had its ups and down. Well the ups are mostly expected given the value cost of owning one. I took this laptop more on grabbing the opportunity to play modern video games, so I bought this only for 27k pesos mainly because acer proviided cheaper alternative than asus but also as a way to handicap myself from getting addicted to playing all graphics demanding video games.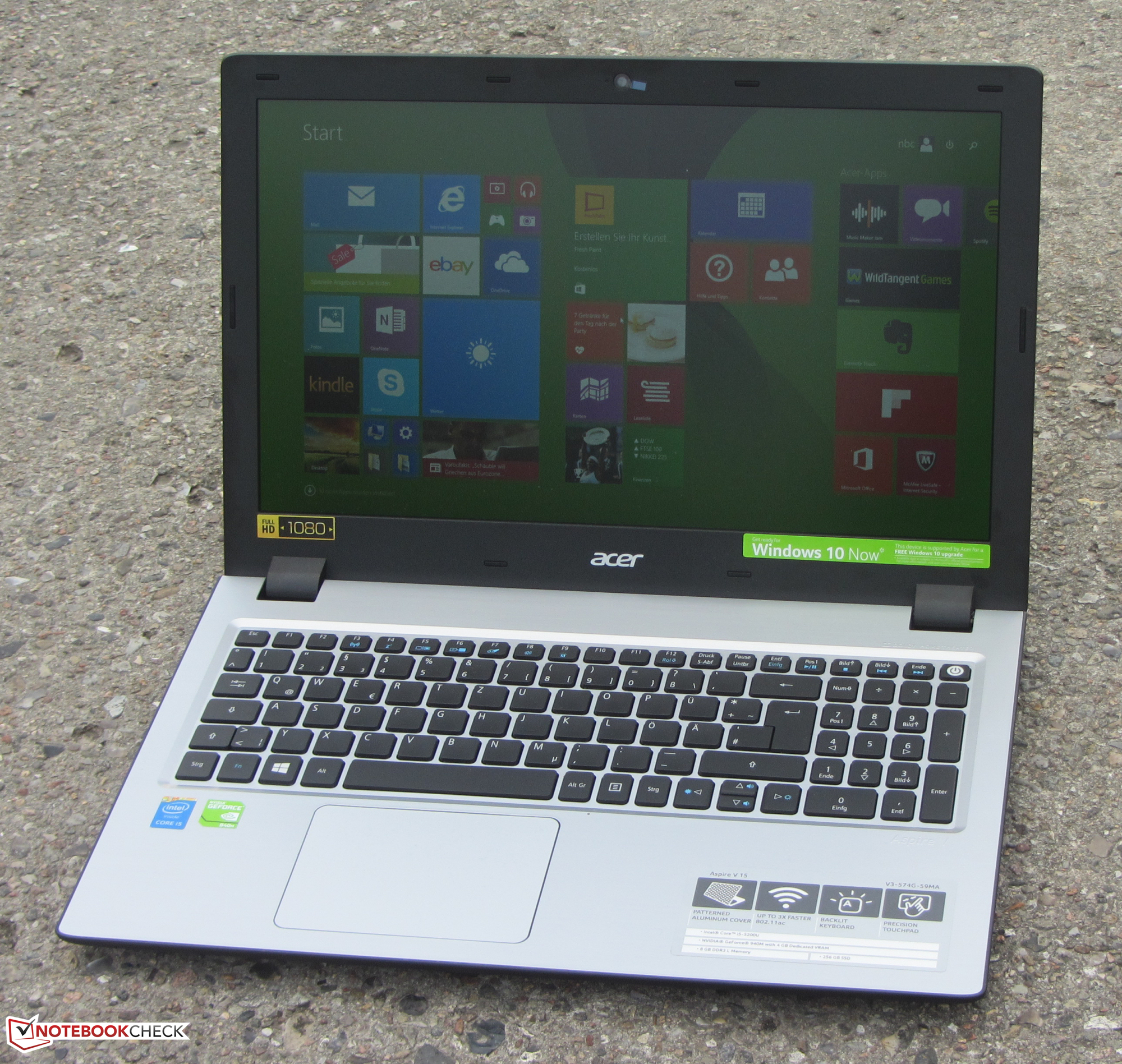 --Acer V3--
As far as my gadgets are concerned, I have never owned any Acer products. But then again, I don't exactly care which products I got. Regardless of Asus and its future is now, Nokia and its connecting people or Apple and waits I don't their tagline, but what's important is the greasy machines inside the hood that I see. I see straight to the point at what I really want: Bang for the Buck. Albeit this term has been trendy now a days but that has always been my compass at buying ever since.

Right now, my latest tech toy is Acer V3 574G and I've been using this for more than a month already. Firstly as much as I'd like to compliment each department of this toy, I feel like it would have been trivial to general audience. Comparing V3 to the last laptop Compaq Presario V3000 that I've been using is like present against been from Jurassic, nah maybe Marco Polo era. Well the story is simple, I had an impulse buying tendency but this one I brought it knowing its really an opportunity. I got mine at a second hand rate but at a brand new condition. It was even covered in foam in box when the owner handed me the unit.

So how did Acer V3 fare in my 1 month of boot camp? I like it! Well I am no Simoun since I am seeing this against the laptop from days of MarcoPolo but this beast can handle modern games that I pitch at it. I played on Remember Me, Need for Speed the Run and Resident Evil Revelations 2. I haven't had chance to ram this machine with latest games but next in line would be Metal Gear Ground Zeroes. If it pass, then I couldn't ask for more. On the good side, this laptop is light, good aesthetics with its back cover with iluminating keyboards, good specs (8gb ram 4gb vram, 1tb hard disk), and a big screen. Now onto the bad ones, there was this issue with the wifi driver. Out of the box it was updates to version 11 which occasionally fails to auto connect at bootup to a wifi router, and worst yet causes blue screen of death. Which to my relief, the error was only software issue. So what I did was to go to device list and uninstall the network driver and the version rollbacked to 4. I don't know what the latest version does but the 4 works a lot better and does not crashes anymore. Other pet peeves are battery life which in my moderate usage only gave me 2.5 hours before the battery runs out, sound volume is about normal.

Finally Acer is a mess when it comes to naming their laptop models. The model is sometimes called V3 and next thing its called v15. Regardless, this is my first time using windows 10 with lots of cool features. Well now time to get back on my gold mine.

dayworth..

Now comes french and its whole constitution of silent letters and vowels while those you need to read aloud generally differ on how you're suppose to read them. It's a language outside the box and I guess that's make it wonderful. My language box has always been centered on English (as do the whole Asians populus do) so this makes a wonderful change of gears on my communication brain lobes. It is as interesting and challenging at the same time. One very intersting thing about French is they give every objects under the sun with a Gender. Oranges have gender, Tables have gender, heck even my mouth also do. You have to put "La" or "Le" for female and male respectively as their article. Moving forward, I've also like to take time to introduce Duo Lingo that's available on Android and Apple free of a single centavo. It fun and lets me learn french (it also has tons of other language courses) by gamifying the process of language learning. I'd recommend this to anyone try to grab a new language tool. WootWoot
I've been learning french for a couple of weeks already and I'm on a hot streak (hey that's what Duo Lingo says on their email reminders) :) A Plus Tard (see you soon)

..dayworth
French as the language of romance is more of a communication tool for aliens to me. Don't get me wrong, I enjoy learning language but its just been its one of the most different sets of grammar I've ever encountered against most of the Asian languages I've gotten used to. In my limited capabilities, I've observed that asian languages are revolve mostly on symbols where in each means a lot of different things. Memorization is the key. Once you get hold of the words you needed, formulate a sentence is just connecting the dots as there are not much grammar constrictions when glueing together those words on your mind. If you have the brain capacity to squeeze in the vocabulary, then all is set and go. I know chinese and japanese and they work the same, I'm betting Koreans and other ones similar works. Now If I were to put my rocket science glasses and make a conjecture, I hypothesize that other south east Asians employs the same idea on how Tagalog constructs a grammar. With a rootword, one can add prefix and suffixes to it to transform words into a certain grammatical connotation. There's the What You See Is What You Get when it comes to reading out loud what is written.


Enter the Alcatel Flash Plus. I have been haunting this little beast for a while but alas it is caged in within the Lazada online shopping as its distributor. Everyone has been gawking at the Lazada page on when is the next batch to release as it only last a few minutes until stocks runs out, just like as fast as a flower opening its bud before withering back to earth. Why is that? This Flash Plus really packs a punch with its very very cheap budget and budget is a word that spreads around like a wildfire. Sadly, I wasn't able to get a brand new unit but brought it from a 2nd hand reseller and much worse it padded extra bucks with his selling price at 7k pesos (brand new costs 6490 at Lazada).

There's a tons of specification glorifying how great this phone is and a lot more naysayers targetting on its weak points. I'd shoot straight for my verdict and I'd say I was very satisisfied with this phone. I always base my feedback on how much I can get from a certain cash at hand and with 7k, I already got a close to high end phone that would otherwise cost me more than 2fold its original price. Sure there are always extra juicy features you would get by draining your months salary but I know what I want and that is to have decent processor and Flash Plus (octa-core) gives me browsing speed like I was surfing on computer. Game has no lags and battery life even outperforms samsung galaxy flagship phones.

The downside is the camera which has no contest to iphones and other high end cameras but I don't go to parties or other dim places often. Sound volume works fine on indoors. What more? Hmm oh one more thing, there is that Pixels Per Inch specs that I don't even know why flagship phone boost it so much. Think cramming a full hd picture on a 5.5 screen but I don't see any difference when Flash Plus only has a 1280 x 800 resolution as picture is as crisp as it would on a high end phones. I bet people with microscope eye on white lab coat can tell difference but for me is can still what I want to.

Anyhow, I am a happy user of this phone for almost a month already. And I would gladly recommend this unit to anyone. Good Will Hunting at Lazada By the way, red from some article this will be released on retail store by August. Good Luck!

..dayworth
They say we are in the information age and I couldn't agree more. Having a gadget is like having an external knowledge bank just being strapped around our forehead. It make me wonder that humans tend to overwork their heart more due to manual labor and the travelling by foot to and fro but alas information travels faster by means that's faster that what your hear from a newspaper boy shouting at the streets.
Though the day is hot, the air was thick with scent of nature thanks to trees and various plantation nestling the corners of the museum. The museum is segmented into around 7 to 8 grandeur rooms with each supposedly representing different themes (though I recon they all look the same). I am not gonna be pretentious a art connoisseur and tell you that each gallery holds deep thoughts and symbolism but I only find a few ones entertaining. The best one would be a rotating device with each side holding a series of pictures so that when un spin it, the images animate. The another one would be a statue wherein if you would take a picture of it and invert the colors using your smart phone, a projection of Mother Mary will comeout. Another intriguing or more provocative was a miniature sculture of UST but it is pappered with hundred of mouse. Is it suppose to symbolize the dirty system of the University? Yet I find it to be more of polically motivated artwork if you would consider it so. With all the artwork on display, it is still a good place to stay and relax even if you were not there for the art. I would welcome it as good recess to people who religiously go to mall just to kill time.
On our way home, the are not much mall on Antipolo but there's it definitely far from a being a province as there are still a number of establishments lying here and there. We decided to stay at a coffee shop which I regrettably already forgot the name but its just in a rotonda along the main high road. Its logo is patterned along like starbucks (as if the starbucks logo is a dictionary of a cafe shop already) but it still provided as a refreshing afternoon after 2 hours of walk in Pinto Museum.
..dayworth
In my view, Filipinos have small population who appreciate art and crafts of similar matter. It may be becuase of quality of education, a strong influence from western commercialism or simply because we tend to be in par with herds. I mean Filipinos don't want to be tagged as the others. Sadly that spells decline of individualism and originality. Its is no wonder that in Manila we have less and less museum and gallery to showcase talents and Filipino craftsmanship. Ill admit that Im making this up but atleast that's what I've observed. So in a bid to become more in touch with our artisticness, we decided to spent a day at one of the popular destination for such museum and that's Pinto Art Museum located at the far end of antipolo. Just like a game, we were granted a "beginners luck" for people like us with zero art knowledge. It so happened the museum is celebrating international arts day and we were lucky to be granted free entrance (fee costs around 180php for adults).
==Lightning Returns Game Cover==
Its been really a long time since I've made another entry on ps3 game titles. Its because playstationt 3 is virtually phased out which I don't get to have many game options nowadays but its also more like I don't spend as much time playing anymore. Nonetheless I still enjoy ps3 and game blogging so this time Ill be writing about the final entry to the Final Fantasy XIII series: Lightning Returns.
Ill tell you right off the bat that the game is absolutely an improvement against the XIII-2. That got it right by returns Lightning here (hey that's not a spoiler, check the title) Personally, I dont really like Sarah much with her timid attitude and the save me damsel demeanor even though she is supposedly the protagonist. Lightning stands atop tenfold here. Furthermore, this title is unique and introduces concepts no other RPG has explore before. IS it a favorable change or not? Let find out.
==Lightning Returns (yes!) ==
The key word is real time and yes that not something revolutionary but I assure this one is real time in the truest sense as story progression is highly dependent on it. Some spoilers introduction here just to get to my point but the world is about to end in 13 days and lightning must do all the save world stuff before time runs out. And time runs when we're galloping across streets to talk to strangers and conquering dungeons. This can be taken as a step forward for realistic element as it gives players a sense of urgency but then again it crosses out the fun when we simply just to bum around and discover side quest. In short, it kills exploration and for me I just became buddies with my phone as its loaded with cheat sheet on where and how to save everyone (incuding a cat) lol. Again I maybe the one who prefer to play extensively but because of that cheat sheet I ended up having lots of spare time in the end which I ended up killing time all the same.
==New Place and NO time to explore (huhu)==
Battle System is definitely a double thumbs-up for me. I really love the battle system here. I am a bit biased towards dressing up female characters in game and here I got to put Lightning on different garbs (3 at a time) as the garbs are a source of her power during battle. Each garb is equipped with unique attack attributes which can make or break a fight so its not just about aesthetics. I never find myself bored with the attack timing along with the flashy effects each fights offers.
==Yehey, color customizations==
Now the story itself is soso for me at best. For me, im hands down towards the first XIII from this trilogy as oftentimes first entries tend to delivering the best introduction plot. There are no new characters here while the existing ones are just recycled items just to have a role in the world for lightning to save. What really disappointing is there is no coherence or a grand revelation connecting all the characters together either. Its like your morning kiddie show with the protagonist defeating the villain of the day and as you'd expect, it comes down to the eventual ending of lightning defeat the evil (bwahahaha) villain.
==Hey I think I've seen you before==
Overall, with the innovation mentiond along with praises/criticisms. I still embrace the changes made by the developers rather than sticking to traditional rpg formula. I recommend Lightning Returns for those who are fans of Final Fantasy or who plays the XIII series. Its sad the the story element which I value much was a bit lacking but the gameplay of Lightning Returns delivers one of the most addictive experience yet.
..dayworth
==Vigan a gateway to a heritage==
Where as feelings are universal when we go to dates, trying out a new cafe that been buzzing everyone or even buying a gadget that you feel is the omnipotent tool to fix all headaches. Travelling to same place is never the same. Im sure you'll agree that more than half of the experiences we get comes from the companions we're with. The first time we went to vigan was way back in
2010
with my office batch mates. Travelling with people my age always leads to adventures especially when we have the energy to do so.
==Fried and Fresh Empanadas==

As for vigan, I did a lot of research via
lakadpilipinas
and it was the only bible you'll need to know the tourist attractions (atleast on the ilocos section). Our dilemma was we alloted only 3 days 2 nights for our entire ilocos trip 1 day was already spent to travel north and fro that leaves 1.5 days for exploring ilocos. ofcoarse we'll need perhaps half a day for rest as we are not travel robots. 1 day is a little bit too long for wonder vigan given that it is a small town yet we decided to stick in vigan as continuing towards north ilocos would cost us more than a days travel time. My advice is to extend your vacation allowances to 4 days 3 nights as north ilocos definitely have a lot more to see.
==Pinakbet at PInakbet Farm==
Ill leave much of the details of vigan to lakadpilipinas. For our journey it took us almost 10 hours to reach vigan from manila but that includes a lot of stop overs and lunch. Ironically we ate at Shakey's in San Fernando. We left at around 6:30 in manila and got to Vigan at around 4:30 just in time to eat the famous street empanadas (at 30 php each). Our gas expenses for singe trip are around 1000 php given our 1.3 engine and toll expenses got around 600 to 700php.
We stayed at my vigan hotel which is a good alternative to my granpa's inn. priced at 4500php in agoda it is spacious enough and includes breakfast. Though i would still recommend granpa's inn given its quaint atmosphere.
==The only(?) light orchestra in the philippines==
For our trip we went around baluarte, pinakbet farm, Quirino Museum (newly opened) and the light orchestra at the town hall plaza. It was worth while trip and enjoyable for first timers.
==Love or hate houses==
..dayworth
==Fujifilm x30 (silver)==
Photography has always been a subject of discussion wherein one can only delve to a tip of an ice berg. There is simply too much perspective for every people. For those who like to talk over it from a technological angle, there are cameras that provide high speed processing, noise reduction, powerful lens and also others more trivial such as aesthetics and ease of handling. For those who like to see photography as an art, there's the thing with lomography and the ever so famous instagram where people apply various sorts of filter to enhance and even upto somepoint provide completely make over. For me, photography is more on shooting people specifically candid images. Call me whimsical but I do love keeping memories, the sort where when you flip over an image you can spend minutes after minutes recalling a certain event. Fujifilm X30 helps me immensely with that.
Let me start with the appearance which with its retro design already says much from its brand tag line "brining back the joy in shooting". I did mention the camera's aesthetics as being trivial but its more than that. Its very important for me to have a subject that is at ease when picturing them, yet I always found myself lacking in that department. I try to crack a few jokes and whiff up a jovial atmosphere but hey some people are just stiff. It doesn't even help if you say relax to a person that's being pointed by a big dslr mounted with lots accessory and a bazooka lens. I'd say the design of x30 is cute enough to bring the charm to the person I'm shooting and at the same time doesn't tone down the macho-ness of the one behind the lens.
One big consideration I had before taking home fujifilm x30 is its lens. Its fixed to the 28-110 zoom lens with 2 to 2.8 max aperture and does not offer an interchangeable lens. Coming from a dslr user (im also using nikon d3000), I'm more focus on having what I want which is taking random pictures on street. There's different advantages when owning a dslr, better image quality and a plethora of parts and lens to put on. However, I'd say only a few would truly do that and understandably it really is a not so wallet-friendly hobby after all. With it, I wanted to buy a digicam that already comes as a package, no more no less. Specification wise, fujifilm states that it has a maximum zoom of 110mm but I've with my friend who had a dslr lens of upto 105mm and the zoom factor is much less than it. The battery for the camera is Np-95 which I reckons came from a earlier fujifilm higher end cameras and it gives a good battery life. I think it gave me more than 200 to 300 shots.
There's a lot of competitor here when it comes the point and shoot category, we have Sony Rx100 or canon powershot g7. Most of which have interchangeable lenses and are prices atleast a half more than x30. Truth be told that if I have enough budget, I'd shoot for bigger and bolder cameras. But for a good value for price standpoint I'm really satisfied with a spent for this camera. The images are sharp and still great even at low light condition. One particular function that surprised me is the wifi quick button which I'm not sure is only a feature available here or a standard to all current brands. At a touch of a wifi quick button it serves will switch on to become a wifi router. Any smart phone then can run a fujifilm app (which is free) and sync with x30 to transfer files and even use it as a remote shutter!
Overall, fujifilm x30 is a good to buy and I'd recommend it for any casual photographers like me. It gets me by with any day to day activities and is portable enough to be inserted onto a tiny bag. This is especially true when travelling abroad because carrying a dslr truly strains my back and it pains me to realize that I'd only took a few shots when I go home.
dayworth..

I was never a fan of speaking english just to be "in" to the community of social elites. Its like putting on a makeup just to have a touch of being beautiful and it grants me the notion that we're all not beautiful to begin with. This is not about comparison but simply accepting oneself. If the elites do enjoy as they are then kudos to them but I just simply recognize who I am now. Then again, I do occasionally practice english as a challenge for myself and for doing what we all do since we're children: Learning.
IELTS is a milestone to any english affluents people. I don't consider myself to be one of them but I am simply taking the exam as its a requirement for me. IELTS deserves a pat in the back for being accurate and fair in assessing english fluency against JLPT which is another institution granding a proficiency test for Japanese. IELTS wins by testing speaking and writing ability where they have agents assess the fluency.
Panic is a mortal enemy of every test taker as I was attacked by "brain freeze" effect more than a few times including the early part of listening. So best be prepare by hmm.. well basically I know no remedy to counter the effects of panicing but one which my girlfriend told me: Seating upright and in a comfortable position as it reflects and calms our inner psyche. But Ironically it fails as she did succumb to it due to the serious ambiance before the beginning of the test.
Overall I am quite satisfied with my test results but I do hope at the same time that I'm misinterpretting confidence with self assurance. Save for the fact that I might have misinterpreted one of the writing task, I have a few misses on listening but reading is quite elementary for me. I don't do prayers a lot especially since the my answer results are already well within the secure cabinets but hey atleast I wish perhaps the check agents would be in a happy mood while checking my writing compsosition. Fingers crossed..

..dayworth
We had taken the long road here. From registering to mental preparation to daily practice to sleepless night prior to test date. Taking IELTS is like being school all over again. And its good to have a crush as my classmate this time around :)


I used to visit Magdalena Chua in Broadview Towers for my derma checkup, sure enough the procedures goes that I tell my problems and the doctor gives medical prescriptions for the cure. Here's my problem doctor#1; the mr right doctor. They tell you to do what to do, you don't follow you die. Emm maybe atleast get a bad sin. The second I address my concerns on what prescription I think is better (mind you, I merely suggest not overrule doctors advice), the doctor frowns and tells me directly to go see another doctor. One doctor down, then there's the dentists (hmm no names, forgot already). Problem doctor#2; the adhd doctor. I think these are the doctor that need to see doctors them selves. While in the middle of cleaning, the attention of the dentist shifts from chatting over phone or viewing tv novellas. God forbid if the dentist might have missed any operation in the middle. Next this is the mother of all problems; #Doctor Late. No explanations necessary. You just need slip out your iphone and look through all your unopened games as everything is as entertaining when you're waiting for the doctor.

Now I may not be a doctor but I know there are real Doctors out there. One of them was Dr. Abigail Co. I must say she by far is the fairest Doctor that was ever recommended to me. As opposed to mr right Doctor, she listens and is patient centric during the whole consultation. Every attention was the sickness not the patient and to the fact that I was scolded for not being aware on my own health. Genuine concerned really heals me from the inside. Then I also had the privilege of being treated by Ophthalmologist Ronnie Pimentel as he is very articulate in detailing the structure of eye and the treatment that was required. He also have the charm wearing smile that keeps anxiousness at bay, the rare people you see especially at a hospital.

Ofcoarse no one Doctor is perfect, there will always in times a lapse in operations as failed attempts are bound to occur. But what's important for me is that Doctor is not suppose to be a career but a mission to help others. Well in fact that we don't need a title to be a Doctor as anyone with a heart to help others can be called a #hero Doctor.

..dayworth
Sickness can be physical or emotional. What's interesting to note is that it can be healed physically and emotionally. To begin it is by being consulted with the right doctor. Firstly, I know there's is no way that you're reading this without your own doctor story. They can easily be your friend or foe, (neither if you happen to visit the doctor google). Anyway, Im doing this blog because of my own personal story of visiting the wrong and more importantly also the right Doctor.